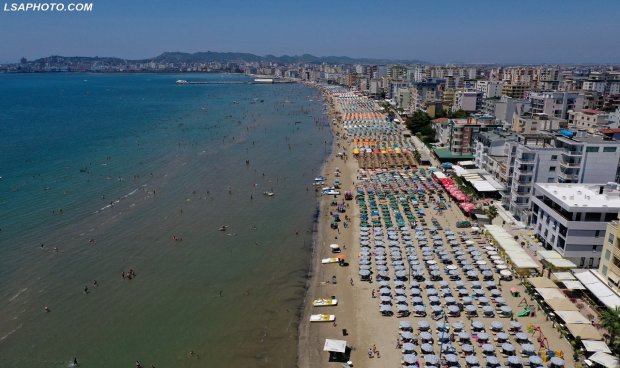 Demand and prices for apartments in Lalez Bay and Qerret has increased by 20 percent, while demand for mansions in The Albanian Riviera has soared by 30 percent, as reported Sunday.
Coronavirus pandemic has brought the annulment of all foreign tourists' bookings until June 30, and fees for the big villlas in Lalez Bay and Ksamil have reached up to the value of EUR 1 million.
Virus outbreak has added to the insecurity of vacationers, even though real estate agencies and tourism actors argue it is too soon to make predictions about how this situation will turn out.
Meanwhile, CEO of Devinf Real Estate Company, Dritan Caka says that in this pandemic period there is no increase in the prices of individual apartments on the coast, such as Golemi or Saranda. In terms of prices, he explains that they vary by area.
"In Lalez Bay, prices are 1000, 1200 to 1300 euros/square meter, depending on the distance from the sea line. It should be noted that even within residential complexes there is a price difference due to the views. In 5-6 village complexes in Qerret, prices last year were 800-900 euros/square meter. For this year, prices are 1000-1100 euros/square meter. In Vlora, in the first line of Lungomare as well as in the area above the government villas, there is an increase in prices, while in other areas the prices have not changed", Caka explains.
However, summer residences prices have remained the highest in Saranda, Southern Albania.
Leader of Saranda Invest Property agency, Eron Cumani marks that prices have not decrease there at the time being. "Currently we do not have price reductions. In some cases, the price of EUR 2000/square meter has been applied. The price that developers are applying is certainly not justifiable and competitive for this group of buyers. Builders justify the increase in prices with the increase of raw materials for construction and taxes, as well as many bureaucratic expenses for obtaining construction permits. A small group are local buyers in the Albanian Riviera (5 to 10%). 90% of buyers are foreigners. Their approach to the real estate market in the Riviera is driven by climate and virgin nature to some extent on the coast, but the main one has been the economic price", he stressed.




Read MoreAlbanian Daily News