Property Management and COVID-19: New Orleans Real Estate Expert Breaks It Down
Landlords and tenants across the nation are facing unprecedented circumstances as COVID-19 continues to pose some uncertainty across the rental housing market. As U.S. households feel the financial strain brought on by the pandemic, residential and commercial landlords are working hard to accommodate these challenges.
For many, sudden financial losses and the difficulties of relocating safely have become an all too real and challenging prospect. For property managers, a shift in strategy is necessary to balance compassion for those with newfound financial issues, while also supporting their clients and delivering ROI on their investments.
Through the first two weeks of June, we've seen 26 multi-family homes in Orleans Parish get to closing, projecting to 52 closings for the month. If this trend holds true, it would only be one more than closing the month of May, (51). And would be the third month in the row that we've seen significant decreases in the number of closings of multi-family properties year over year.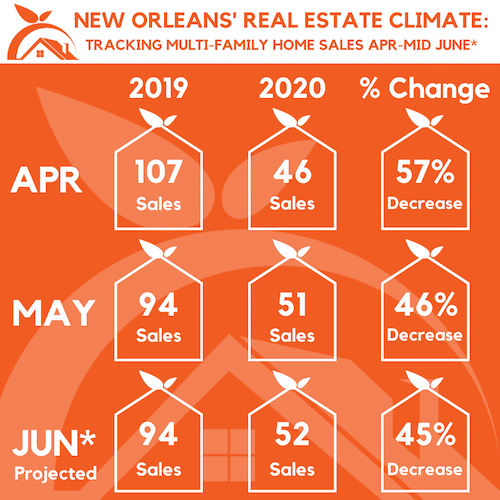 Through the first two weeks of June, we've seen 26 sales of multi-family homes, which gives us an estimated projection of 52 closings for the entire month. This is only one more than May, which had 51 closings. This is the third month in the row that we're seeing significant decreases in sales year over year, following a 46% drop in April 2019-2020 and a 54% drop in May 2019-2020.
That said, 49 closings have gone under contract or are pending in last several days, meaning we're on pace to see more multi family home sales in July than in April, May, or June. There is plenty of reason to be optimistic that we'll get closer to normal in the future.
As the pandemic continues to impact residential and commercial real estate, both tenants and landlords are exploring new ways to work together and accommodate each other. Josh Fogarty, partner at Satsuma, Realtors and Satsuma Property Management is going above and beyond to provide compassion and relief to his tenants and clients.
We spoke to Josh about his recent journey navigating these new norms, while running a successful property management business during a national pandemic.
---
---
Josh, give us some background on your property management experience.
I started buying and managing properties in 2010 in Baton Rouge and New Orleans while still a college student at LSU. For a long time, I only managed properties that I owned myself. Over the last five or six years, I've worked on managing properties for people in my direct network—friends, family members, and colleagues—but officially started Satsuma Property Management and began offering services to the general public as well.
Over the entire course of your history working in property management, have you ever evicted anybody?
I've…