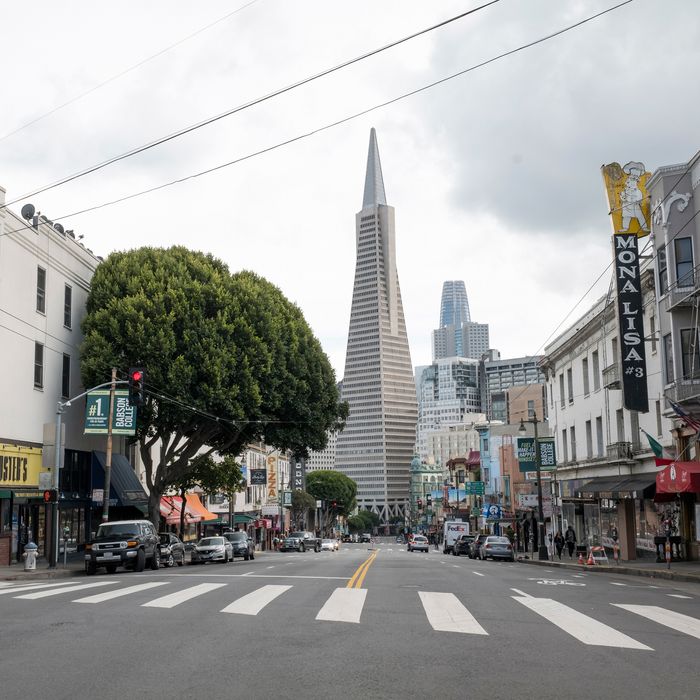 The Transamerica Building stands at the end of an empty Columbus Avenue in San Francisco, California, U.S., on Tuesday, March 17, 2020.
Photo: David Paul Morris/Bloomberg via Getty Images
San Francisco's iconic Transamerica building — owned by the insurer of the same name since its construction in the 1970s — is being sold. But these being COVID times, it's being sold at a discount. A group of investors had struck a deal to buy the property for $711 million back in February, but now the San Francisco Business Journal reports Transamerica has agreed to a 10 percent price cut to keep the deal on track.
Since cities physically consist of real estate, you would expect a pandemic that has severely disrupted life in cities to disrupt real-estate markets. And it has. There are disruptions on two time horizons. In the short term: Unpaid rents and vacant spaces mean financial losses for building owners as the crisis continues; in the long term, if the crisis changes certain real-estate usage patterns for good, it could lead to permanent reductions in the value of certain kinds of real estate, especially commercial real estate, even after society gets back to normal.
This isn't just a problem for people who own buildings. When buildings fall in value, that's usually because fewer people have cause to work and shop in them, which corresponds to reductions to income and consumption for individuals. And because cities and states depend heavily on taxing commercial properties and the activity that occurs in them, a shock to commercial real-estate values is likely to cause yet another problem for state and local government budgets.
The outlook seems diciest for retail real estate. Retail landlords report the highest rates at which their tenants are failing to pay rent, with nearly half of retail rents going unpaid during the crisis as tenants face dire financial straits. Landlords have little recourse when tenants don't pay — what are they going to do, evict a restaurateur and find someone new to sign a lease for the space, in this economy?
The shift toward online retail had already been reducing the demand for physical retail space for years. The coronavirus crisis turned this slow decline into a steep drop: Many department stores that might have closed gradually over the next decade will instead never reopen after their sudden closure this spring, and their closure will reduce foot traffic at the malls they anchor, imperiling the stores…


Read MoreCoronavirus' Possible Permanent Effect on Retail Real Estate