Travel agencies are facing an "existential threat" as continuing border closures mean they "don't have any product to sell", with business analysts predicting the phasing out of government wage subsidies is likely to mean mostly larger agencies survive.
However, some travel agencies, despite reporting "zero revenue" since the pandemic began and having to pay back fees for cancelled holidays, hope that – by sparing their clients lengthy phone calls with airlines by negotiating refunds on their behalf – they will have demonstrated their value to customers eager to travel when restrictions allow it.
Travel websites' surging share of holiday bookings over the past decade – Webjet recorded 52% growth in bookings between 2013 and 2019 – has seen smaller travel agencies close and larger firms move to compete with the online and corporate travel markets.
But agencies that have exclusively relied on jobkeeper are concerned they will not be able to recover like other sectors when the scheme is wound back after September.
Flight Centre's founder and managing director, Graham Turner, told ABC radio on Tuesday the sector needed federal and state governments to be clearer on whether they were pursuing elimination or suppression, and bring certainty for what travel will be allowed.
"We really need the domestic borders open initially and then the international borders to open," he said. "The jobkeeper helps a bit but that's not the real issue. Our main problem we've got is we don't have any product to sell."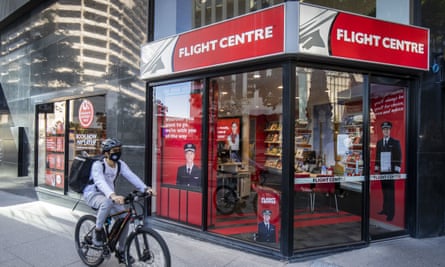 Flight Centre founder Graham Turner says jobkeeper is not the real issue. 'Our main problem we've got is we don't have any product to sell.'

Photograph: Glenn Hunt/AAP
As a result of travel restrictions, Flight Centre has had to reduce staff numbers from 22,000 to 5,000. Helloworld Travel this week launched a $50m capital-raising exercise to bolster its balance sheet, with transaction volumes expected to remain at 10%-12% of previous levels until state borders fully reopen. It has reduced operating costs from about $23m to about $2m a month, and has stood down 700 of its 1,500 staff, with the other 800 working reduced hours.
When new figures released on Thursday showed unemployment had risen to 7.4% in June, the opposition minister for employment and small business, Brendan O'Connor, held a press conference with a travel agent to call for an extension of jobkeeper to keep tourism workers employed.
Andrew Buerckner, the Melbourne travel agent appearing with O'Connor, said 23 of his 25 staff would not be employed without jobkeeper, and predicted "98% of travel agencies in Australia would be gone" without the subsidy.
"As much as I hate the word 'pivot', there is very little chance for the travel industry to pivot into another area," he said. "Hospitality have the opportunity to look at takeaways…


Read MoreDeath of the travel agent: Covid-19 an existential threat for an industry without